---

Complete law firm contact information listed in up to FIVE California counties - expand your reach and list in bordering counties!
Up to 10 lines of personalized text, explaining your law firm's qualifications, experience and any other information regarding your legal practice
Active e-mail link to your current e-mail address
Active link to your current web site
Network listing on 1500 search engines through our legal network
Global exposure from our web site, publications, and marketing campaigns
California Bankruptcy Network has been helping individuals find bankruptcy attorneys since 1992 and has top relevant SEO on all top search engines
We are listed as a top 5 site on Google and Yahoo and get thousands of qualified visitors each day who seek bankruptcy assistance!


$250 Per Year

Publish your Law
Firm for Less Than
$21.00 Per Month!
The California Bankruptcy Network web site launched in 1992 and is at the top of all top search engines given our length of doing relevant business. This is what brings us thousands of qualified visitors each day. Our secret is all about Search Engine Optimization (SEO) and while many attorneys and powerful law firms spend tons of cash trying to achieve top placement on Yahoo and Google, you don't have to because listing on California Bankruptcy Network will get your firm top search engine placement and qualified traffic that result in new clients for you!
Google Ranks The California Bankruptcy Network in the #1 Position on Page #1!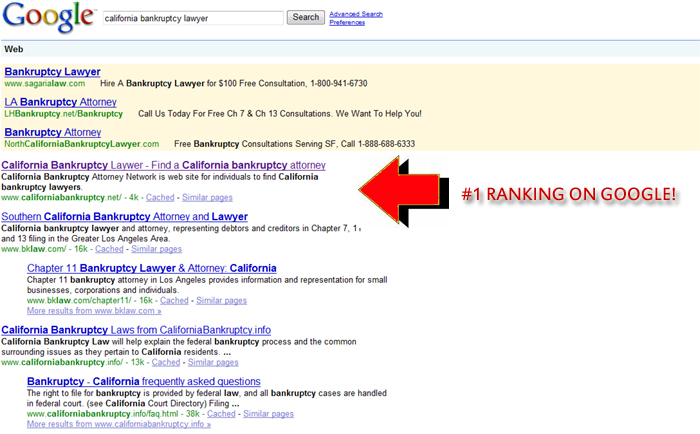 Yahoo Ranks The California Bankruptcy Network in the #3 Position on Page #1!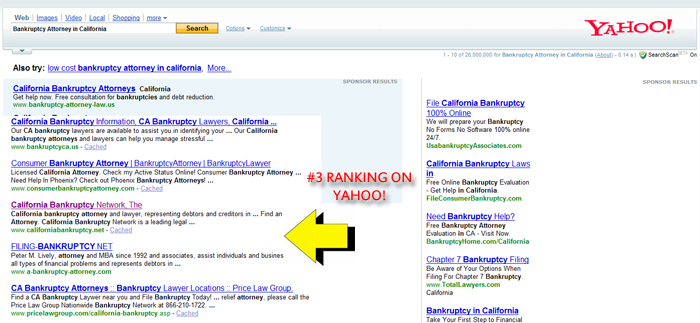 ---

LOS ANGELES COUNTY
The Law Offices of John Doe
I am an experienced bankruptcy attorney practicing within Los Angeles county. I am certified by the California State Bar Board, with 25 years of experience. I understand all of the steps and important matters relating to these proceedings. I have represented hundreds of cases including creditor, debtor and trustee. Our firm consists of four attorneys and two assistants who operate in a relaxed and comfortable atmosphere. Please feel free to call or e-mail us for a FREE consultation or visit our web site below for more information.

1122 Bankruptcy Lane, Somewhere, CA. 91000
Phone: (800) 555-1212 - Fax: (800) 555-1313
E-mail: ..lawyer@californiabankruptcy.net
Web Site: www.californiabankruptcy.net
---
© Copyright 2009 Synergy Ventures, LLC - All Rights Reserved, All listed attorney names, firms, phone numbers, and addresses are intended for litigation inquiries only.